Thinking & Noodling 💭🍜
I'm turning 30 in March.
As 2019 comes to a close, I'm thinking a lot about something one of my college professors said once:
Life doesn't start until you're 30
I don't remember the context that led to it, but it's stuck with me. I was 21 at the time.
Now that my thirties are about to begin, I'm starting to contemplate what my professor meant.
What exactly does "starting life" mean? What's the relationship between the prologue and the first chapter in a story?
If there's anything I learned in my twenties, it's that as long as I follow my gut and do what feels right, things end up working out. I'm going to continue doing that and see where the road leads.
We're all in this thing together and nobody gets out alive. So thanks for taking some of your limited time and spending it here, with me. Hope you enjoy this first post!
---
Personal 🏠
Carole & George 💑🐶
Carole and I are coming up on five years together. Not that long ago we didn't even know each other and now I can't picture my life without her. We start and finish every day together and I'm grateful for having such a beautiful and funny adventure partner to share life with (although she doesn't like to share food with me). Love you, chouch.
Our golden retriever George is already over two years old and a full 65lbs. He's in the energetic puppy stage so he's pretty much a teenager. I spend most of the day with him since I've primarily been working from home (more on that later). He needs a lot of exercise, which means I get all my exercise thanks to him. I lost 15 lbs since we got him and don't believe it's a coincidence. Jokes aside, he's added an unbelievable amount of color and joy to our life and puts smiles on our face regularly. He's worth all the trouble and more!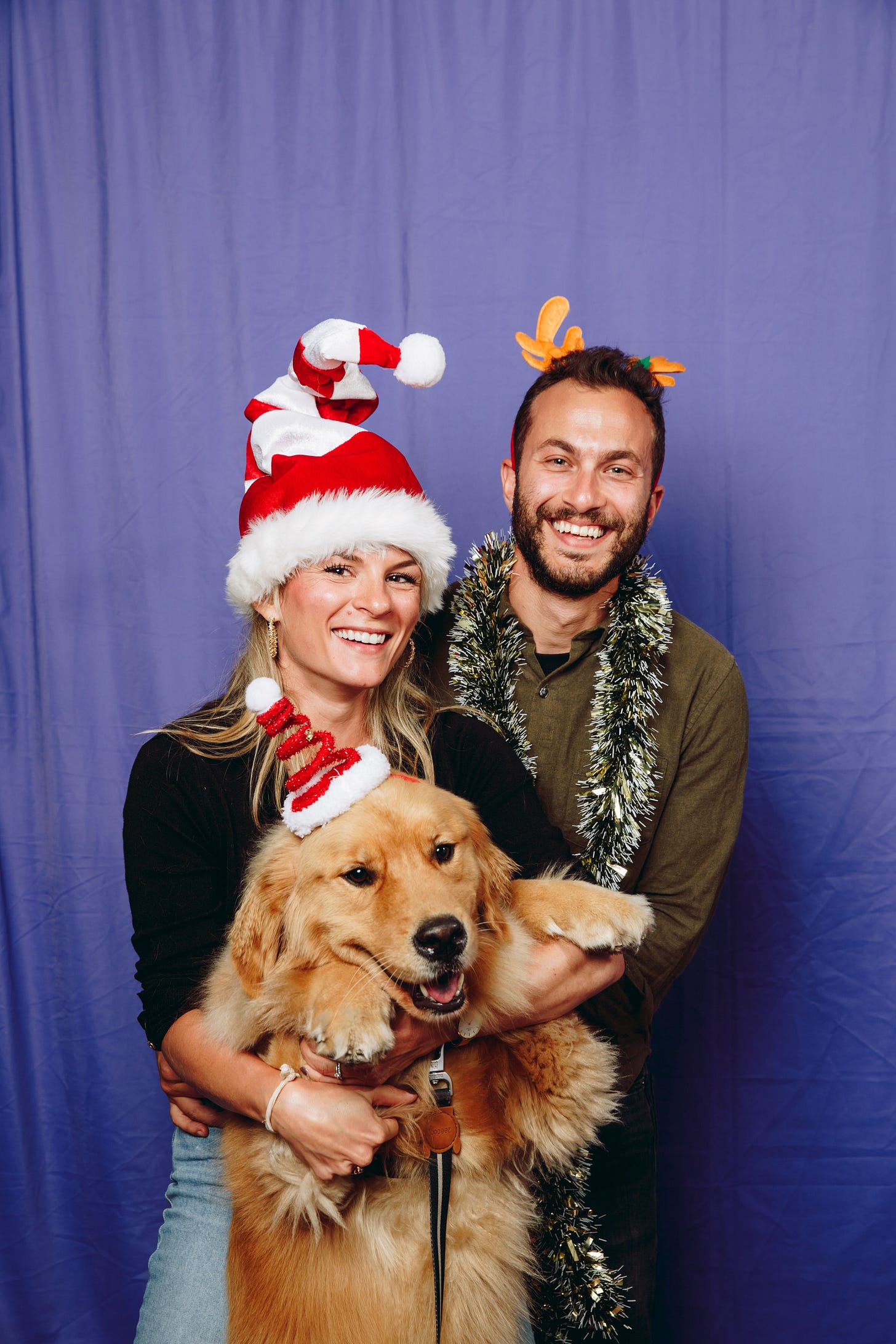 🎉 Happy holidays from Carole, George and me! 🎉
Social 👻🍻🍕
Having lived in San Francisco for almost six years now, I'm lucky to have a rich group of friends around me who I enjoy spending time with. I don't party much these days so socializing includes eating good food, going on hikes, having coffee, talking about life or playing some chess. Even though we're on the other side of the country, there's a big group of people from my college town here so it's been nice to "grow up" together.
Carole & I are increasingly spending time with other couples, too. It's funny how being in a relationship enhances the joy of spending time with other people in relationships. Maybe we have more in common with couples now than we do with our single friends. Who knows 🤷🏻‍♂️.
Travel ✈️🛤🛣
We're fortunate to have unlimited vacation policies at both of our workplaces and a reliable dog sitter so this has been quite the travel year for us.
Carole & I visited Austin, Japan, Portland, France, Italy, San Diego, Kauai. I did some solo travel (combo of fun & work) to Florida, San Antonio, Colorado, Austin. I could write dozens of posts just about these trips, so I'll save that for the future 😜
In the meantime, here's a great sunset selfie from Kauai over Thanksgiving.
Nature 🌲🏔🏝
Living in the Bay Area has some real perks when it comes to spending time in nature. I've done a lot of day hikes in Marin and the East Bay, with any combination of George, Carole, friends, and myself. Time in nature is becoming a critical element of how I stay energized and avoid burning myself out. I do some of my best thinking while walking on trails and my lungs appreciate the rich oxygen from the trees.
Every year I go somewhere outdoorsy with four of my closest friends from college. We usually do some really cool hike and camp in tents. This time it was late October in Colorado so we got a cabin in Estes Park, which was a nice place to be warm after our 12 mile hike in the ice/snow all the way to the top of a mountain at Rocky Mountain National Park. My friend Sammy had the genius idea of getting ice spikes for our shoes before the weekend, which was absolutely critical. The experience was unreal. Previous trips were to Joshua Tree, Big Sur, Pinnacles, North Georgia mountains, and Yosemite. Each year just gets better. We're a good team and our planning pays off.
Routine 🌓🌕🌗
My weekday routine is pretty consistent. Wake up 7am, feed George, shower, catch up on emails and notifications for 5-10 minutes, then walk George for half an hour to an hour. There are a couple big parks that are very dog friendly around us so I'll usually mix walking and playtime for George with the other dogs. Around 9am I'll officially start the work day. I'll take George out quickly around noon and eat lunch while listening to a podcast usually. Then I keep working until 5:30pm or so when it's time to feed George his dinner. Then I take him out for another walk, usually for an hour but if I have plans after work maybe more like 30 minutes. Most weekdays I'll end up having dinner together with Carole and catching up on our days together. We like to watch shows together and usually we go to sleep at the same time (I spoke with a friend the other day that said he and his wife never go to bed at the same time, which I found interesting).
---
Career 👨🏻‍💻🕵🏻‍♂️
This has been a very productive year on the career side of things.
Abstract 👨🏻‍🎨
I joined Abstract as our first product manager in January and we've grown the team to five PMs since then. Over this time, the company also grew headcount from 70 to 130. So the year has been full of change.
My onboarding was pretty smooth since I was an Abstract customer for two years before joining. It was nice to be able to step right in and start contributing. I've been leading our Collaboration squad, which is a cross-functional team of two product designers, six engineers, and an engineering manager. We've been focused on the "social fabric" of our product and making sure designers can share their work, collaborators can leave feedback, and that this whole communication loop worked well. There's a lot of nuance to it but that's the gist of it.
And since Abstract is a remote-first company, it's been a year of adjusting to a different way of working. I wrote Early Thoughts on Distributed Work back in February and also did an interview more recently that was written up as a blog post in Four tips on how to collaborate successfully in a remote environment.
Consulting 🤹🏻‍♂️
Outside of Abstract, I've been spending a few hours a month consulting with a couple startups, mostly giving guidance on conducting user research, translating the findings into actionable roadmap items, and prioritizing these. It's typical for startups to wait as long as possible to hire a PM, so until then a mix of employees usually share the responsibilities of product management. It's been rewarding to help people figure out the answers by asking them good questions. It feels like a taste of what it must be like to coach or teach.
Breathe 🧘🏻‍♂️
Last September I also finally made the decision with my friend Mo to shut down our side project for the last ~4 years, Breathe. Breathe was a simple iPhone app that allowed users to set reminders to take deep breaths throughout the day. We built Breathe together as a side project while we were at Life360 and launched our app a full year before Apple launched their own Breathe app for the Apple Watch. I'm not upset with Apple, but it did make for a good PR opportunity at the time.
After 65k downloads and 4.9/5.0 stars from hundreds of reviews (from people we don't know 😉) we decided that even though the cost of keeping it running was low, the code was starting to get stale and the only way to keep the app live without it becoming terrible was to invest a material amount of time refactoring a lot of code. So we took it down from the App Store and cleared up some space in our heads for what's next. Perhaps this newsletter is filling some of that space.
---
Information diet 🥕🥦
Books 📚
If you're looking for holiday reading, these are some of my recent favorites: Hyperion series, Three-Body Problem trilogy, Dune, Stormlight Archive trilogy, Endurance, Let Your Life Speak, The Madness of Crowds (audiobook was 👌), Creativity Inc, Shoe Dog, The Courage to be Disliked.
Movies & TV 🎞
Throw a bag of popcorn in the microwave and check any of these out: Snowpiercer, Booksmart, Once Upon a Time in Hollywood, Toy Story 4, Incredibles 2, First Man, El Camino.
We're also in some kind of golden age of television. Bingeworthy today: The Crown, Goliath, Bodyguard, Succession, Fargo, Better Call Saul, The Kominsky Method, True Detective, The Leftovers.
Podcasts 🎙
Most of the content I consume these days is audio (walking George gives me 1-2 hours of time each day). Here are ones I've been enjoying in particular: The Joe Rogan Experience, Acquired, Below the Line, Making Sense, The Jordan B. Peterson Podcast, The Startup Chat, This Week in Startups, Venture Stories.
---
That's all for the first post! If you made it this far, give yourselves a pat on the back 👏
Thanks for reading and I'd love to hear from you if there's anything that resonates!