#10: 30th Birthday 🥳 & 5th Anniversary 🥰
Turning 30 in an era of social distancing and celebrating five years with Carole
Hey folks! Welcome to a very special 10th edition of my newsletter.
Today's post will be a bit more personal since I hit two milestones this week: I turned 30 on Tuesday (yesterday) and am celebrating five years with Carole today 🎉
---
30th Birthday 🥳
I woke up yesterday to a room full of balloons and a funny birthday card. Carole's been teasing me for a while about taking forever to turn 30 so I think she's even more excited about it than I am!
Things were pretty normal until around 10am, when Carole (who never actually calls me Ben) says, "Ben? Can you come over here?". I saw her sitting at her laptop and figured she wanted to show me something. Then I got closer and saw a screen full of faces. I immediately thought, "oh wow, her colleagues want to wish me a happy birthday?" 🤦‍♂️
After a second, I realized these weren't her coworkers. These were our friends and family. Carole planned a surprise birthday party over Zoom!
It was so unexpected that it took me a few minutes just to make sense of what was happening; I couldn't stop smiling. I was so happy to see people.
Friends and family dialed in from all over: San Francisco, Portland, Los Angeles, San Diego, Miami, Tampa, Gainesville, New York, London, France, and Israel. So many timezones and so many places. It genuinely made me feel special.
Thanks to everyone who came and biggest thanks of all to my beautiful wife Carole for organizing the whole thing without me ever having a clue it was happening 🙏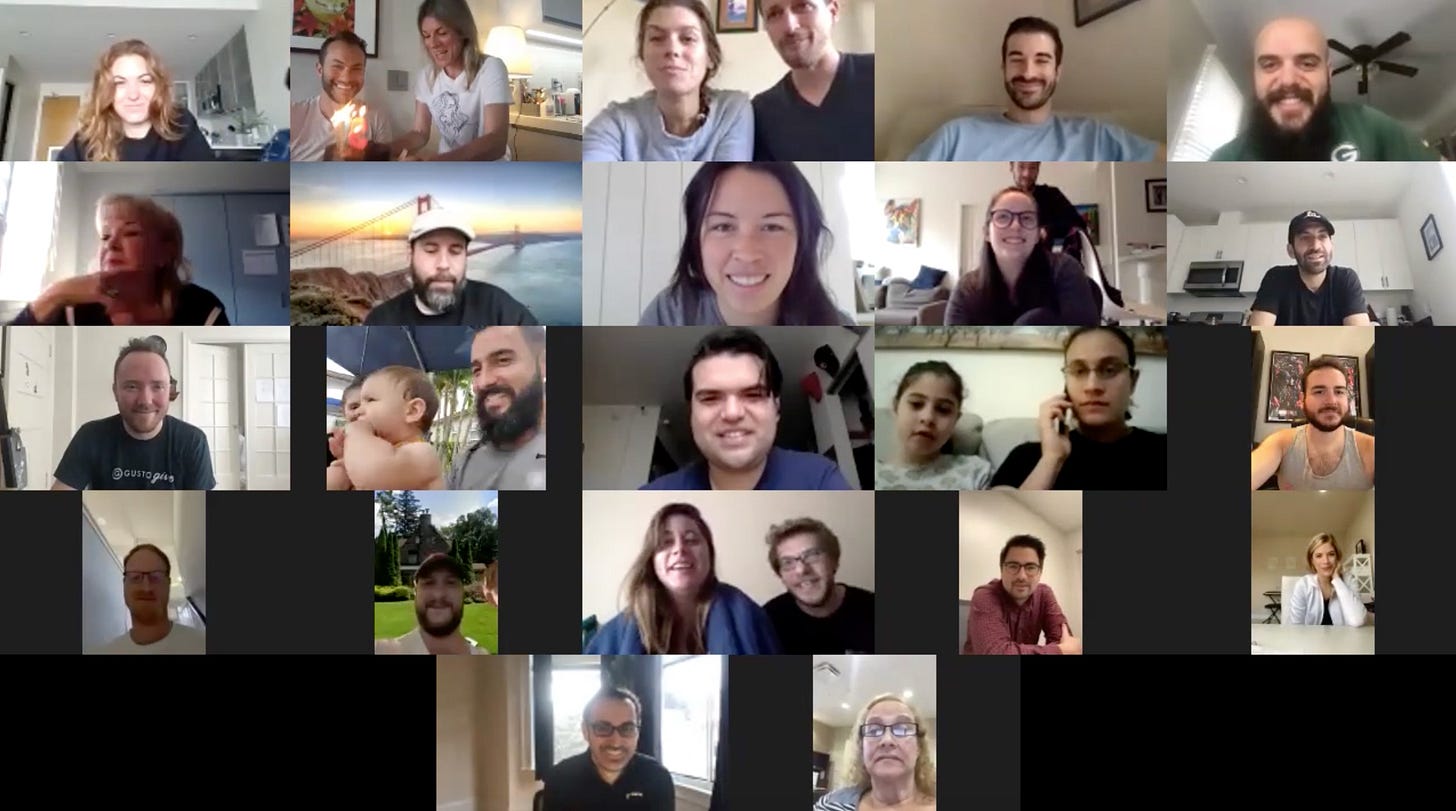 Carole's gift - beyond the birthday party, cake and balloons - was a smart chess board. I first learned how to play chess a few years ago and have become fascinated with it. The board is actually pretty crazy but none of my friends have one yet so I have't played any real games yet. Here's a demo:
And here's George and the balloons. He's fascinated with them.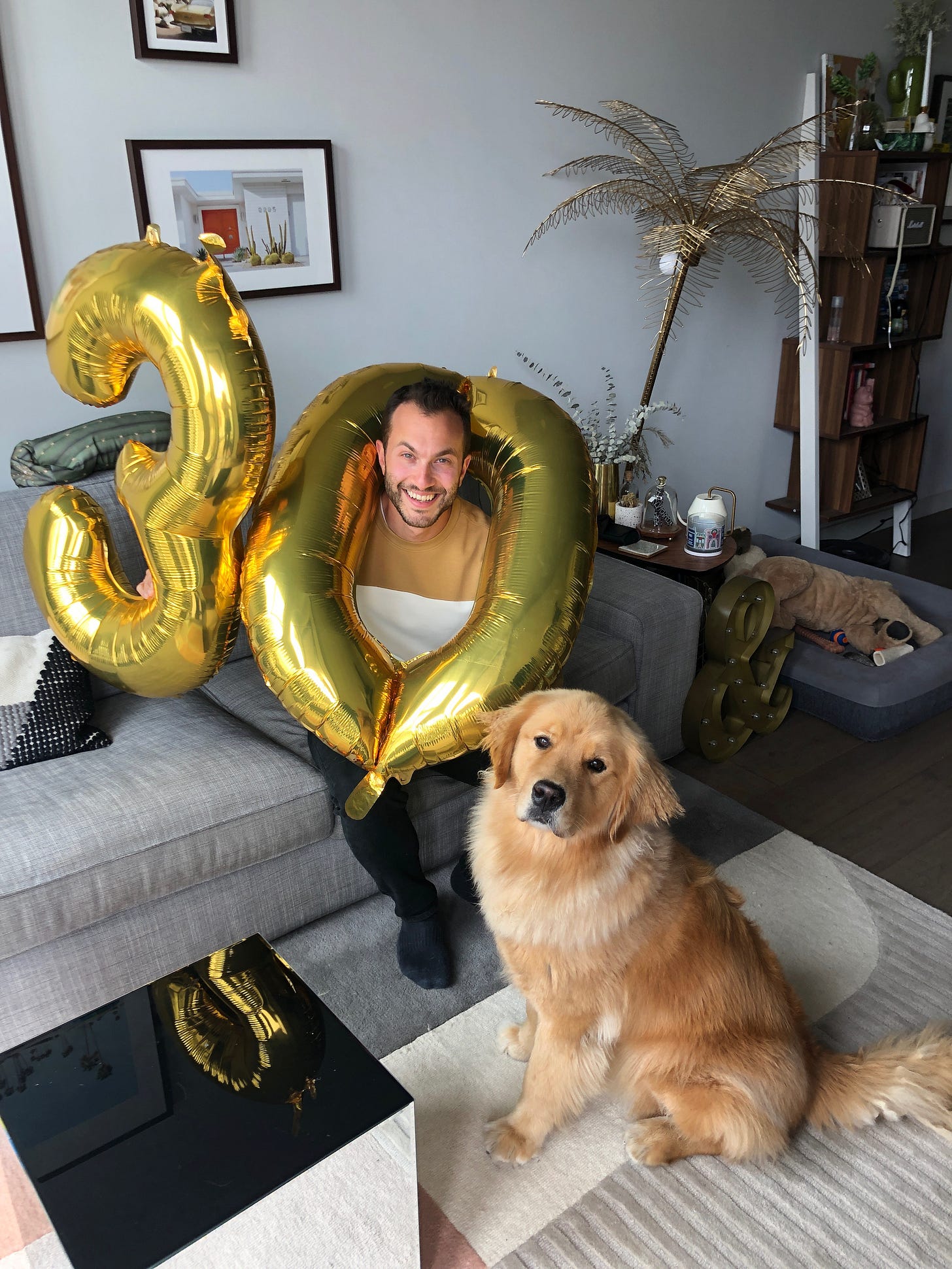 ---
5th Anniversary with Carole 🥰
Five years ago I went on a "first date" with Carole. I say "first date" because we met the prior weekend at a BBQ and spent the whole day together so this was more like a graduation from weekend fling to an actual date.
Later, she told me she was skeptical after the weekend and apparently almost cancelled our date earlier that day because she wasn't excited about it. Luckily, she showed up.
I remember feeling a mixture of anxiety and excitement. I couldn't stop thinking about her since the weekend and felt like I needed to not screw it up. This beautiful French blonde girl has a lot of promise!
She walked into the bar and my first thought was, "wow she's even prettier than I remember!". She sat down at the bar next to me and we ordered drinks.
To this day, neither of us remembers what we talked about for hours at that bar. I just remember a lot of laughing and nonstop conversation. also I remember leaving the bar together, and walking a few blocks to my apartment (better she call an Uber from my place!).
On the walk back, I asked her if she had a favorite movie. She thought for a minute and said in a very French accent, "pff maybe Forrest Gump?". I stopped and gave her a big kiss. That's my favorite movie. She thought I was an idiot and didn't see the big deal.
Over the following weeks we went on many more dates. A few months later we went on our first road trip together for 4th of July, driving all the way down to Palm Springs and Los Angeles. We got into one argument along the way but otherwise it was absolutely magical. I was falling in love with this person 🥰
It wasn't long until Carole essentially moved in with me; my roommate Jon and I had ourselves an unofficial third roommate!
A year after we met, Carole & I moved in to our first apartment together and got married... All in the same weekend. It was a lot.
A couple years later, we got the world's cutest 8-week old Golden Retriever puppy from the back of a truck at Dolores Park (long story that starts with Craigslist) and have called George our fluffy baby ever since. He'll be 3 this June.
My life has evolved so much over the last five years; it's impossible for me to imagine it without Carole at the center. I never quite understood what people meant when they spoke about their significant other as their second half, but I think I get it now.
She sees things I don't see and understands the world in ways I don't. She's right about things I'm wrong about. She's intuitive. She's simultaneously grounded to reality and a creative/artistic dreamer with her head in the clouds. She's improved my taste and made my thinking better & more practical. She's no pushover and she puts me in my place when I'm being a dick. She balances me out.
I don't know what the next five years hold, but all I know is that I can't imagine going through the road ahead without her by my side. This COVID situation has shown me that I could be stuck with her for another six months at home and would just be happy to be with her (although she'd probably lose her mind having to be stuck with me for another six months 😂).
Carole - thanks for being my chou chou. I'm lucky to have you and love you so much! Happy anniversary 😘