#3 💭 🎉 🔮 2020
Priorities for the new year, stock predictions, tech that makes my life better, and other thoughts/recs
Thinking out loud 💭
"If you ever start taking things too seriously, just remember that we are talking monkeys on an organic spaceship flying through the universe."

- Joe Rogan
New Year's Eve. Always an interesting day, isn't it?
Tonight we celebrate the end of one trip around the sun and beginning of a new one. January 1 opens a door to doing things differently - hopefully better - than we did during the last trip around the sun.
The concept of taking 365 days to complete a trip around the sun is not, on its own, meaningful. But humans are symbolic creatures and find meaning everywhere possible.
Humans seem to benefit from structure. We're all comfortable with various levels of ambiguity but at a high level we like to know where we stand. Time gives us the minimum amount of structure necessary for navigating life.
If there's a better unit than "a full trip around the sun" to mark the end of one chapter and beginning of another, I can't think of it.
Happy new year, folks!
New Year Priorities 🎉
I don't make grand new year resolutions but I try to make adjustments year-round. In 2019 I made some small changes that have been helpful and which I plan to continue in 2020:
Social media. I didn't open Instagram once in 2019. I also deleted these apps from my iPhone: Facebook, Twitter, LinkedIn. I use mobile Safari and stay logged out so that I have to log back in if I want to use any of these on mobile. The extra friction helps me limit usage to when I'm sitting at my laptop (where I'm always logged in but it's easier to just shut the laptop to disconnect).

Offline time. I mostly stay off my phone right before going to sleep. I read paper books instead. I also leave my phone at home when I walk George sometimes but it's hard. I want to do more of that.

Saying no to things that don't excite me. I started this last year and have a lot of room to exercise this muscle more in 2020. As careers grow, so do the number of opportunities. Prioritization with kindness is critical.

Writing. I tweeted a lot in 2019, which helped me add followers and meet new people. But it also caused me to start thinking in 280-character chunks (not a good way to use our brains). I miss longer form posts and hope this newsletter helps me write in greater length in 2020.

Product strategy and leadership. I've been finding my voice as a product leader and hope to continue growing as a strategic thinker. I'm good at synthesizing my own conviction by talking to lots of different stakeholders. I'm continuing to invest in relationships that make collaboration feel more organic. The result is a shared sense of ownership over decisions. It's how I like to work.

Nature. I'm determined to continue spending time surrounded by trees, fresh air, and beautiful landscapes. It helps me think clearly and makes me more appreciative of city life.
Life is short ⏳
Last week I read about the passing of an ESPN college football reporter named Edward Aschoff. He caught multifocal pneumonia, and died from it (on his birthday). He was 34. 34!
To think that a young, healthy man can still die from pneumonia in 2019 is a humbling reminder that life is short and can end at any moment. None of us are entitled to a prolonged "heads up" when our time comes.
Edward's fiancée wrote a touching thread from his Twitter account after he passed. I won't recap it, but feel free to give it a read.
My inner critic often says my thoughts aren't worth sharing, my perspective isn't truly unique, and that everything I have to say is obvious. When I read news like this, my inner critic quiets down. There's not that much to fear when it can end at any moment.
Everyone's voice is unique and we're all one unlucky roll of the dice away from lights out. Here's to sharing our special points of view in the limited time we have together 🙏
---
Tahoe ⛄️
We enjoy quick weekend getaways whenever we need a little break from the city. This time we did a 1-nighter in South Lake Tahoe and got a genuine winter experience with a full-blown snow storm. It was beautiful and hit the spot. Nothing like long drives, boozy hot chocolate and playing in the snow to clear the mind.
In my last post I promised a picture of George playing in the snow so here you go: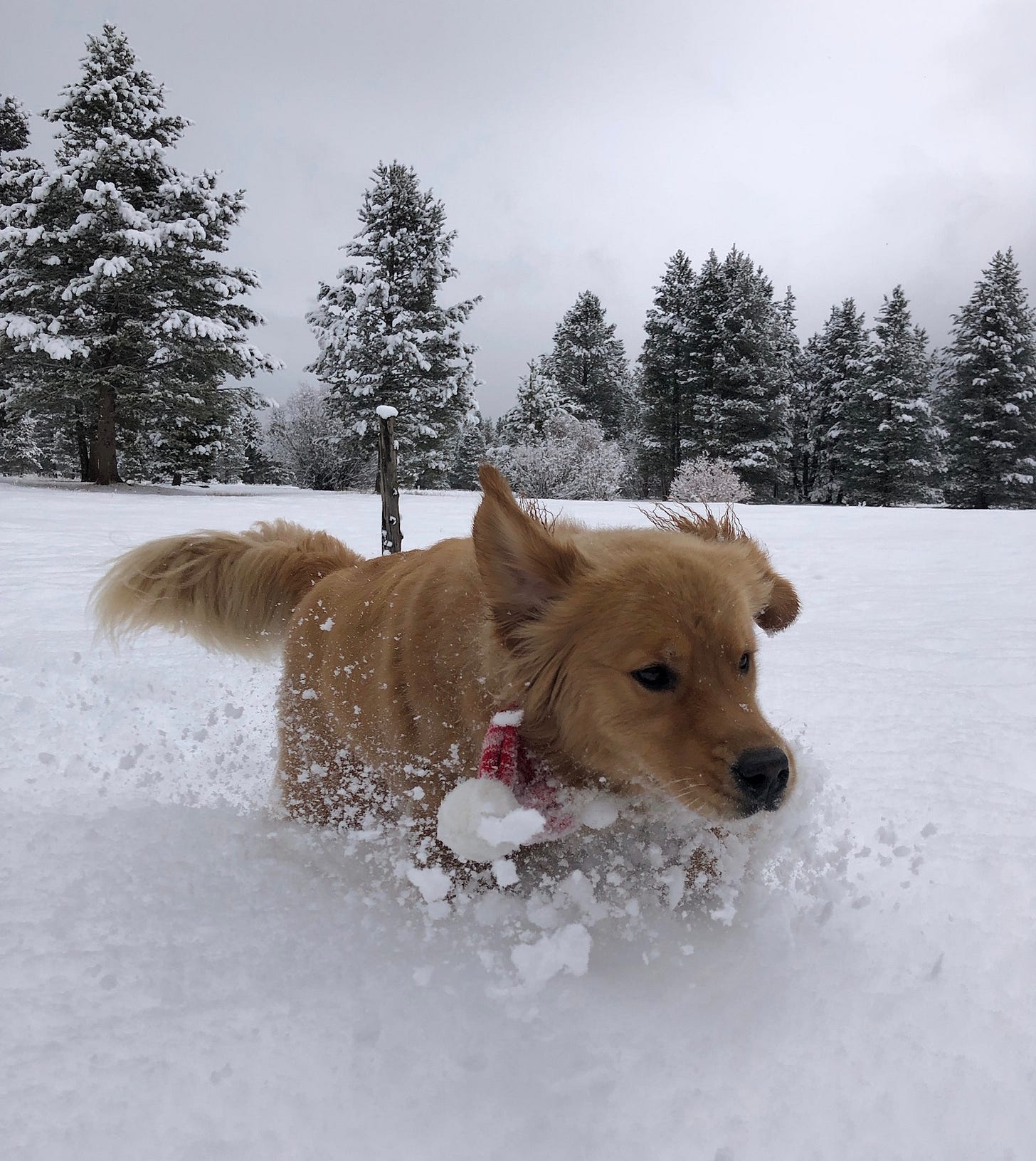 ---
Reflecting on Lyft 🚗
Over the break I was reading some of my old blog posts and stumbled upon one titled Lyfting and Sharing from October 2012. I had just moved to SF a couple months earlier and was enjoying a brand new service called Lyft.
Here's how I described it back then:
Lyft is an on-demand ridesharing service in which regular people pick you up at point A and take you to point B. The service is donation based and since the registration requires credit card information, no cash ever exchanges hands. According to the drivers I've spoken to, the company keeps 20% of the donations and the drivers get the other 80%. In addition, Lyft provides all drivers insurance for rides involving Lyft customers. The drivers have to pass a background check and have a valid driver's license of course. The whole experience is GPS-tracked on both the user and the driver's end. And my favorite part- the cars all have a signature pink mustache on the hood.
I forgot Lyft used to be donation-based. It was so small back then that I used to get the same drivers multiple times per week. One day I asked one of the drivers how many total drivers there were. He replied, "maybe 100?"
In that period we had our NYC colleagues in the bank visit SF. They asked me how I recommend getting around the city. I told them about the pink mustache cars. I vividly remember one of the guys who was more senior than me saying, "What a dumb idea. That'll never work". Bankers 🤦‍♂️
I wrote that post around when Lyft raised its $14.9mm Series B at a $147.7mm post-money valuation. Uber still only had their luxury black cars on the road for $25 minimum rides; UberX wasn't launched yet.
Today Lyft's market cap is $14 billion. It's worth 100 times as much as it was when I wrote my post. And Uber is worth $52 billion.
I'm no banker but maybe I should be a venture capitalist? Just kidding I like building things too much 😜
---
Stocks 📉📈📊
I've generally shied away from sharing my opinions about stocks because it's mostly gambling. That said, I thought it could be fun to share some predictions for stocks in 2020. While I have a masters degree in finance and am able to analyze SEC filings and build financial models, I much prefer qualitatively evaluating markets, human behavior, corporate leadership, and making a gut call for what I think will happen.
The below targets are directionally capturing how I believe things will shake out for these stocks in the next year: TSLA, DIS, NFLX, SQ, SBUX.
Disclaimer: I am not a financial advisor and this is purely speculative. Don't trade based on my thoughts please. I'm not responsible for your decisions.
Tesla (TSLA) ⚡️
I've had the hardest time understanding people who hate on Tesla. It's one of the most important companies of the 21st century. They're accelerating a sustainable future for humanity through renewable energy. We should all be rooting for their success.
Even putting sustainable energy aside, people love their Tesla vehicles! I can't go anywhere these days without seeing Teslas on the road (we even saw these in Kauai over Thanksgiving). Their charging network is expanding by the week and they're gearing up to tackle the trucking market with an industrial-grade and direct-to-consumer truck.
While Carole and many others find the new Cybertruck grotesque and aesthetically offensive (I think it's cool), I believe Tesla is going to eat Ford's lunch with it (Ford is primarily a pickup truck business; the F-series has been the best selling car in America for 36 years). The Cybertruck is stronger, faster and doesn't need gas. It's badass and has over 250,000 pre-orders on the books.
Tesla is currently at $420/share. It's up 24% this year.

By the end of 2020, I think it'll be trading above $500/share (+19%).

I own TSLA shares.
Disney (DIS) 🦸‍♀️
Disney just had one of the most exciting years in its history. It recently launched its highly awaited Disney+ streaming service which went on to get 10 million subscribers in the first day. I recommend an episode of the Acquired podcast where they run through a series of massive acquisitions led by CEO Bob Iger. These that put them in the position to launch their own streaming service:
1995: CapitalCities/ABC/ESPN for $19 billion

2001: Fox Family Channel for $2.9 billion

2004: Muppets for undisclosed sum

2006: Pixar for $7.4 billion

2009: acquires large stake in Hulu

2009: Marvel for $4 billion

2012: Lucasfilm for $4 billion

2019: 21st Century Fox for $71 billion
It's a masterclass on corporate strategy and puts Disney in a pretty much unstoppable position with both content and technology. They have a repeatable process for producing blockbusters. Also, did we mention their parks and merch? The one concern I have is that Bob Iger will be retiring in 2021 but I suspect he's deep into succession planning and will do everything he can to ensure the company continues on the path he envisions for it.
Disney is currently trading at $144/share. It's up 32% this year.

By the end of 2020, I think it'll be trading above $200/share (+39%).

I own DIS shares.
Netflix (NFLX) 📺
To say that Netflix has a rough year ahead is an understatement. The recent launch of Disney+ as a competitor, in addition to Hulu, Amazon Prime, and HBO as content power houses is leaving a big question mark around the role Netflix will have in the future of online streaming. They're definitely committed to content production, but more quantity than quality from what I can gather.
There's also an issue with two of the most streamed shows on Netflix leaving the service in 2020: Friends and The Office.
On January 1st, 2020 Friends will be removed from the platform and at the end of 2020 we're going to see The Office removed as well. Friends will be available on HBO Max in May and The Office will air exclusively on NBC's own not-yet-launched streaming service. I suspect these will be major losses that cause people to question whether it's still worth paying.
Netflix is currently trading at $324/share. It's up 25% this year.

By the end of 2020, I think it'll be trading below $250/share (-23%).

I no longer own NFLX shares.
Square (SQ) 💳
Square recently launched their standalone POS (point of sale) system. It's been making it easier for me to pay and also making me a more generous tipper. In 2020, I believe we will continue to see mobile payment growing, with Apple Pay, Google Wallet, and tap-to-pay credit cards reducing friction for consumers and adding profit to retailers. There are certainly other integrated POS systems in the market, but I wouldn't bet against Square. They understand their customers and design great interfaces. They have a strategy for distribution and they're executing on it almost flawlessly.
CEO Jack Dorsey is also the CEO of Twitter currently and seems to be handling the shared responsibility well. The key is probably great delegation.
Square is currently trading at $62/share. It's up 10% this year.

By the end of 2020, I think it'll be trading above $80/share (+29%).

I own SQ shares.
Starbucks (SBUX) ☕️
Only a couple months ago, Apple Pay overtook Starbucks as the largest mobile payments app in the U.S. The Starbucks app had over 25 million U.S. users this year. This is impressive from a standalone mobile payment market share perspective but it's a significantly more important figure when remembering that their core business is selling coffee. They're making it easier to order coffee AND giving rewards for drinking more coffee. It's a powerful loop. I can't bet against them.
Starbucks is currently trading at $87/share. It's up 37% this year.

By the end of 2020, I think it'll be trading above $110/share (+26%).

I own SBUX shares.
---
Helpful Tech 💻📱
Clockwise ⏱🗓
A few months ago I started using a Chrome plugin for Google Calendar called Clockwise. It's a smart calendar assistant that moves meetings around on my calendar to optimize the amount of "focus time" for me and my team. Focus time is defined as 2+ hour blocks without meetings.
It also detects scheduling conflicts ahead of time and moves meetings around to accommodate other people's availability.
The result is that I have more focus time, my team has more focus time, and I no longer have to worry about scheduling conflicts with my colleagues. I have my calendar on autopilot.
I've been recommending it and it's spreading rapidly inside of Abstract. If you use Google Calendar on Chrome and have a lot of meetings with other folks who are using a shared calendar with you, I suggest trying it out.
Smart Plug📱🔌
I've been pretty skeptical of the connected home / internet of things future but I recently ordered a $10 smart plug on Amazon and I love it.
We have lights on our outdoor patio that can be turned on simply by being plugged in. Until now, every time I wanted to turn the lights on, I had to go outside and plug them in. When I wanted to turn them off, I had to go outside and unplug them. It wouldn't be a big deal if the plug wasn't hard to reach and it wasn't so cold outside.
With my new smart plug, the lights plug into the WiFi plug which is always in the wall. Then I simply activate/disable the plug from my phone. No need to go outside anymore.
Small win, but a lot of small improvements add up to big changes over time!
---
Books 📚
I was recommended a book called Atomic Habits a few months ago. Then another person recommended it. Then another. So I finally gave in a few weeks ago and started reading it. It's all about helping people understand how to make desirable habits part of their life and how to kick undesirable habits. I'm not even halfway done but it's already helping me make small changes to do more of what I want (this newsletter is a good example of something I'm finding time for now).
A lot of today's newsletter has elements of atomic habits actually.
---
Other Reading 📃
I love reading Paul Graham's essays. They're thought-provoking and often run counter to the mainstream view of certain topics. The last one I read was Having Kids, which came at exactly the right time for me.
He shared his own favorites in a tweet recently and I'm slowly working my way through them, starting with advice he wrote for high school students back in 2005.
Several people asked which essays are my favorites:
paulgraham.com/hs.html
paulgraham.com/essay.html
paulgraham.com/marginal.html
paulgraham.com/jessica.html
paulgraham.com/lies.html
paulgraham.com/wisdom.html
paulgraham.com/wealth.html
paulgraham.com/re.html
What You Can't Say
paulgraham.com
---
That's it for this one - thanks for reading! Prior posts:
---
If you'd enjoy having these delivered directly to your inbox, subscribe below 👇
And if you enjoyed this post and want to share it, I'd appreciate it 😀
And and if you enjoy my newsletter in general and want to share it with others, that's even better 😀😀